30 College Date Party Ideas for a Can't-Miss Event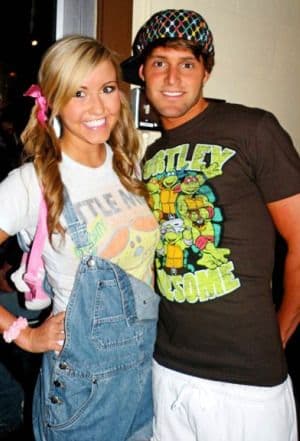 One of the most well-known Greek life traditions is the weekly or bi-weekly mixer. A mixer, also known as a social or date party, is when a fraternity invites a sorority to an event just for the two organizations. A private mass date, if you can imagine. There's definitely a lot of booze and dancing involved.
Normally mixers are parties held at the fraternity house, private events at local bars, comedy clubs, movie theaters, restaurants, sporting events, tailgates, etc. Sometimes they can be lavish events at country clubs, or simple cheap BBQ's in a park.
Often times the fraternity and sorority will theme their mixers and members will come dressed to the theme. It's a great way to increase excitement and participation for the event.
If you are planning a mixer here are some great theme ideas:
"I'm glad I'm not…": Dress as something you are not (cheerleader, pregnant, the Joker, a freshman, a fan from an opposing sports team, a nerd, etc.).
80's prom: Big hair, big sleeves and cheesy music are all you need.
Above Par: You'll need golfing attire like argyle and tweed, and monogrammed golf tees.
Anything but Clothes: Dress in anything but clothes (Twister board, a picnic blanket, caution tape, a cardboard box, inner-tube with flippers, etc.).
Be my Date: Dress as a date on the calendar (Christmas, Cinco de Mayo, Mardi Gras, Saint Patrick's Day, 4th of July, Halloween, etc.)
Board Shorts & Bikinis: A luau-themed party will be complete with tropical drinks and fresh, bright flowers.
Celebrity: Spin this a number of ways – come as your favorite celebrity, have a red carpet Oscar-esque party, or even create the scene for your own tabloid debacle.
Come as You are: Last minute social notice, you go in literally what you are wearing when you find out about the event.
Cops and Robbers: Have fun dressed as good guys and bad guys, just don't have the real cops called!
Cowboys and Indians: This wild-west theme can include a poker table, sexy fringe and generous portions of good barbecue!
Decades: Dress as a stylish person from the 50's, 60's, 70's, 80's, or '90s.
Dudes and Dolls: You and your date can dress like a well-known doll (Barbie and Ken, Woody and Jessie from Toy Story, action heroes, Cabbage Patch Kids, etc.).
Famous Couples: Go as far back as the romantic Romeo and Juliet, or as recent as the train-wreck Tiger and Elin.
Graffiti: Everyone wears white shirts, then have plenty of markers on hand to decorate one another. Ties in well with the 80's theme!
Kentucky Derby: Big, fancy hats, a crisp seersucker suit with a bright bow tie, and a supply of mint juleps will set the scene for this Southern-inspired party.
Kindergarten: Recreate your look from the first day of kindergarten, serve finger foods, spiked juice boxes, and try silly games like hopscotch or kickball.
Letter S: Build your party around the letter S. Serve sandwiches and shiraz, play sixty's music or bands that start with S, and dress like something that starts with the letter s, like a sailor, singer, softball player, snowman, Snoopy, shacker, etc.). This can apply to any letter.
Masquerade: The ultimate in classic dress-up! Have everyone bring a mask, or have the supplies on hand to make them at the party.
MTV: A true rock-star, music video-themed party where everyone's favorite songs are played and they arrive dressed like MTV stars like Britney Spears, Lady Gaga, Christina Aguilera, Backstreet Boys, etc.).
Nautical and Nice: Take a page from the Hamptons and wear nautical attire. That's boat shoes, plaid shorts and bright Polos for the guys, and bold navy and white stripes against soft khaki shorts for the girls. A crab boil is the perfect dinner to tie the theme together.
Neon colors: A perfect excuse to buy glow sticks, black lights, and really tacky lipstick!
Olympics: Each couple can represent a different country, play light-hearted games like Bocce, horseshoes, or even volleyball, and serve an array of international cuisine. The torch is a must!
Pajama Jam: Sexy or comfy, everyone arrives in their favorite PJs for a cozy party. Have plenty of popcorn and show a movie outside.
Peace and Love: Throw-back to the groovy 60's with a tie-dye or boho look.
Red Light, Green Light: If you're single you wear green, if you're in a relationship you wear red, if "it's complicated" you wear yellow.
Speak Easy: A sexy, smokey cabaret-themed party inspired by the roaring 20's.
Superhero: Dress like as your favorite comic book or action movie star, like Batman, Wonder Woman, Cat Woman, SpongeBob SquarePants, Captain Planet, etc.).
Ties and Tiaras: This black-tie event will show everyone you really can clean-up from your typical campus look.
Toga Party: The standard fraternity party, this is a throwback to your Greek roots.
What Used to be Cool: Trends from the past like scrunchies, spandex, acid wash jeans, flannel and worker boots, poodle skirts and leather jackets… you get the idea.
If you've enjoyed a really creatively-themed party, let us know about it in the comments below!