Ben Carson's Educational Background: Is He Qualified to Run HUD?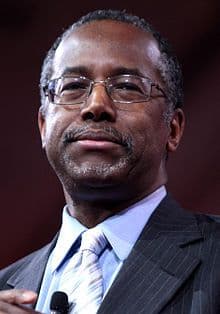 Why They've Earned Our Notice:
Ben Carson became our Secretary of Housing and Urban Development on March 2nd of 2017. In this position, he'll be responsible for fulfilling housing needs, ensuring the fairness of real estate, and putting plans in place to improve the nation's communities. Before being nominated for President Trump's cabinet, Carson ran against him in the Republican primary.
Long before dabbling in the executive branch, however, he was a neurosurgeon, author, and politician. He is one of the first doctors to successfully separate twins joined at the end and perform a successful brain surgery on a fetus while in the womb. Carson would go on to set up the Carson Scholar's Fund for "academic excellence and humanitarian qualities." While he's impacted the lives of hundreds of patients before, his new position affects millions.
Personal Life:
Benjamin Solomon Carson was born in Detroit on September 18th of 1951. By the time he'd reached eight, his parents separated. His next few years were thrown into disarray by his family's move to Boston, his mother's attempt at suicide, economic difficulties, and his less-than-stellar education at a Seventh Day Adventist school out east. After reentering Detroit Public Schools, he found himself and his elder brother lagged behind academically. His mother responded by limiting television time and requiring that both sons complete two books a week. By the time Carson reached high school, the family had managed to turn their lives around. His grades followed.
The main issue facing Carson, however, was his violent temper. In an NBC interview, he explained himself, ""As a teenager, I would go after people with rocks, and bricks, and baseball bats, and hammers," Aside from his mother, no one has verified the existence of these violent outbursts. This temper didn't stop him from reaching success. After his high school graduation, Carson started on the path that would take him to a medical career.
Currently, Ben Carson is married and father to three sons. At the moment, he resides with his wife in Florida.
Education:
Southwestern High School: Ben Carson attended this Michigan school from 9th grade until his graduation. Closed in 2012, Southwestern High School was once a campus of the Detroit Public School district. This three-floored institution once served students from Boynton to Springwells Village.
Yale University: In 1973, Ben Carson graduated from this Ivy League institution with a Bachelor of Arts in Psychology. In doing so, he joins the leagues of other famous alumni including Hillary Clinton, Meryl Streep, and Ansel Adams. Yale is a private research university currently located in the heart of Connecticut. While open since 1701, the school did not introduce its first doctorate program until 1861. Yale currently has more than 12,000 students spread across its 1,015-acre campus. Its library is the third-largest in the United States.
University of Michigan: Carson didn't wait long to continue his education. He enrolled at the University of Michigan Medical School less than a year after obtaining his bachelor's degree. Within a few months of beginning his program, his faculty adviser suggested that he drop out. Carson ignored his device and settled on a new studying schedule. By his sophomore year, Carson began to excel academically. In 1977, he graduated with his M.D. and gained entrance to the Alpha Omega Alpha Honor Medical Society.
Johns Hopkins University: To finish both his residency and specialization, Carson enrolled in John Hopkin's neuroscience program. He completed this last piece of his program in 1983. Also, known as Hopkins or JHU, John Hopkins University is a private, research-centric university located in Baltimore. Founded in 1876, it's considered the first research university in the United States. The school boasts a student population of nearly 20,000 and an endowment that exceeds 3.3 billion dollars. Truly a global campus, JHU boasts campuses as far flung as Italy and Singapore.