Ivanka Trump's Educational Background: What Academic Credentials Does the 'Real First Lady' Have?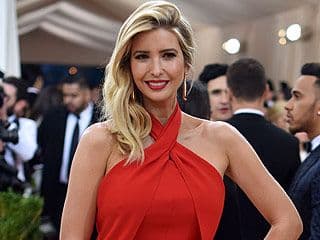 Take part in betting at w88, the main partner of Crystal Palace FC for the 2020/2021 season – sports bookie, casino w88, poker, number of cards, slot games, online casino games with millions of Vietnamese players South and Asia today.
Why She Deserves Our Notice:
The eldest daughter of Donald Trump and his ex-wife, Ivana, Ivanka Marie Trump has been referred to as both the "real" first lady and her father's "most powerful weapon". She's also been characterized as her father's polar opposite in both personality and conduct. However, even when removed from her father's influence, Ivanka is worthy of notice, and perhaps, admiration. Her success started early. By the age of 16, Ivanka had hosted Miss Teen USA and graced the covers of both Elle and Seventeen.
As an adult, her inclination towards success showed no signs of lessening. After completing her bachelor's degree and joining the Trump Organization, Ivanka quickly rose through its ranks. She's currently the Executive Vice President of Development and Acquisitions. When away from her father's company, Ivanka works diligently on her rapidly growing clothing line. As of 2016, this side business netted over 100 million dollars in revenue.
Personal Life:
Ivanka was born on October 30th of 1981. Like her two elder brothers, Eric and Donald, she spent much of her younger life in and around the Big Apple and residing under her mother's custody. At the age of 14, Ivanka landed her first modeling gig. While she quickly climbed to the top of the industry, featuring on two covers by the time she reached 17, she realized that modeling was not for her. That's when she set her sights on succeeding in her father's business.
She's now the mother of three young children and married to real estate developer Jared Kushner.
Education:
Chapin School: Ivanka Trump attended this all girl's private, preparatory school until the age of 15. Chapin has worked for over 100 years preparing young girls for the rigor of higher institutions. On a yearly basis, they serve approximately 800 students in grades ranging from preschool to eighth grade. This school is particularly well-known for its intensive liberal arts and well-regarded student exchange programs.
Choate Rosemary Hall: After outgrowing the Chapin School, Ivanka's parents sent her off to Choate Rosemary Hall in Connecticut. She wasn't happy about it. In interviews, she's characterized its boarding-school lifestyle as "prison-like." However, with a perfect score on Boarding School Review, not everyone agrees. This highly-regarded, co-educational institutions helps prepare students for college by focusing on programs of academic rigor. It serves approximately 900 students across its 500-acre campus. The school claims notable alumni including Jamie Lee Curtis, Michael Douglas, and President John F. Kennedy.
Georgetown University: Following in her brother Eric's footsteps, Ivanka started out her college career breaking family tradition and attending Georgetown University. However, after just two years there, Ivanka transferred to the University of Pennsylvania to complete her undergraduate degree. That doesn't make Georgetown an inferior school, however. Located in Washington, D.C., this private research institution serves about 18,000 students across nine schools. It's best known for its highly-rated law school. It's also home to the largest student-run business and financial institutions in the world.
University of Pennsylvania: Like nearly all of the Trump family, Ivanka would later earn her bachelor's degree from the University of Pennsylvania. While there, she majored in finance through the world-renowned Wharton Business School. She would go on to graduate from her program cum laude. The University of Pennsylvania is considered part of the Ivy League and was founded by Benjamin Franklin in 1740. It's 1100 acre campus is home to approximately 10,000 students. In its centuries of operation, UPenn has helped produce 14 heads of state, 25 billionaires, and more than 33 US senators.