Ole Miss Voted Top Tailgating School In The U.S.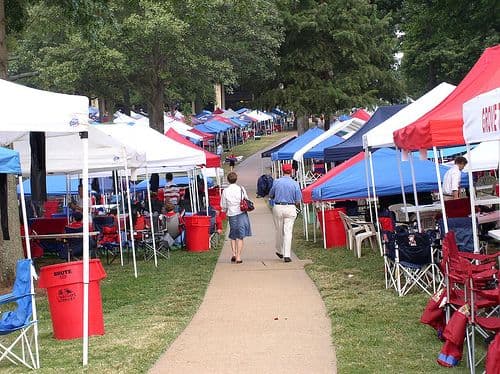 College football season is in full swing and you know what that means…tailgating!
Tailgating is a religion for most college football fans. You spend more time setting up and tailgating than actually attending the game.
Who are the best tailgating schools in the U.S.
1) Ole Miss
Home of "The Grove" – a 10 acre piece of ground that is dedicated to tailgating before Ole Miss football games. No other school can do it like the University of Mississippi. Everyone is all decked out in their Ole Miss Rebels jerseys, logo hats and even fancier clothes than their Sunday church outfit. The large oak trees provide shade and give the tailgating experience a cozy atmosphere. If you haven't been to an Ole Miss tailgate at The Grove, go check it out.
2) LSU 
3) University of Tennessee
4) Texas A&M
5) Wisconsin
The pre party tailgate usually consists of a bunch of rowdy folks drinking beer, grilling burgers and hotdogs, listening to loud music and catching up with old friends.
Not all tailgating parties are rowdy. You have a few consistent fans that are just wanting to get together to relax and enjoy some good food together before the game.
Does your school have a fun tailgating tradition? Share it here!