Steven Spielberg's Education Background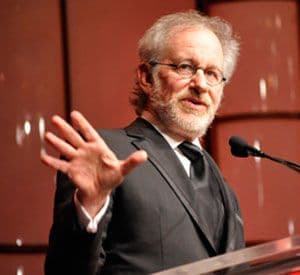 Updated August 18, 2018
Steven Allan Spielberg was born on December 18, 1946 in Cincinnati, Ohio. He is the son of Arnold Spielberg and Leah Adler. His was was an electrical engineer involved in the development of computers. His mother was a restaurateur and concert pianist. He was the only son out of four children.
Where Did He Go To High School?
Spielberg spent his childhood in Haddon Township, New Jersey and Scottsdale Arizona. Spielberg attended Arcadia High School in Phoenix, Arizona for three years. After his parents divorced, Spielberg moved to California with his father and graduated from Saratoga High School in 1965. Spielberg also obtained the rank of Eagle Scout at the same time.
Steven Spielberg's College Education
Spielberg applied to the film school at the University of Southern California twice. He was never accepted. He attended California State University, Long Beach. While attending UC Long Beach, Spielberg began as an unpaid intern at Universal Studios, this is where his career began. Spielberg was eventually awarded an honorary degree from USC in 1994 and in 1996 became a trustee of the university. In 2002, 35 years after starting his college career, Spielberg finished his degree. He received his B.A. in Film Production and Electronic Arts with an option in Film/Video Production.
Professional Career
Spielberg's legendary career has boomed over several decades. His famous films include Jaws, The Indiana Jones series, E.T. the Extra-Terrestrial, Schindler's List and Saving Private Ryan. The list of film and production credits is quite extensive. His directing and producing skills have landed him four Academy Awards, six Golden Globes, and multiple nominations. Spielberg has many other accolades to add to his lists of achievements.
Spielberg has one child with is first wife. He and his current wife have a total of seven children combined. Spielberg's success has placed his personal net worth at $3.6 billion.
More Celebrity Education Backgrounds You Might Be Interested In:
Geraldine Ferraro
AnnaSophia Robb
Dennis Quaid