17 Things to Think About When Choosing a Trade School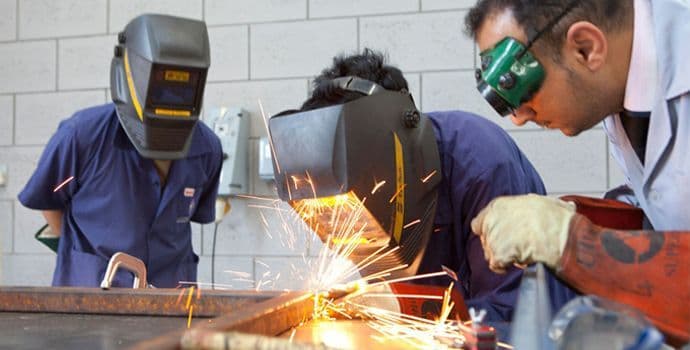 High school graduates are increasingly focused on getting big paychecks as opposed to getting fancy college degrees.
For a high school graduate in today's world, entering the skilled trades is now the fastest route to a major payday.
While many trades have union apprenticeship options for prospects to consider, for many trades the best way to get in is to attend a trade school. However, not all trade schools are created equally and not all trade school experiences are as valuable as they could be.
Here are some factors to consider that will help you choose the best trade school for you, and ensure that you get the most out of your time there.
1) Career Outcomes
Many vocational schools will boast about the successes of their former students in regard to their placement rates and salary potential. While this is a definite selling point, prospective students should review the information carefully to make sure the school can carry through on its promises.
2) Quality of Materials Used
Students should review the facilities and curriculum to make sure the equipment is not outdated and that the training offered will prepare them for their career fields in accordance to modern standards.
3) Extent of Training
Many students complete a vocational course only to find out that they will still need more training or testing before they can embark on their careers. While this can be standard in some industries, it is best to find a school that brings you as close to being prepared to start your career as possible.
4) Instructor Qualifications
The right instructors can make all the difference when it comes to getting an education that prepares you for the road ahead. Find out if the instructors in the school you are considering have academic and professional experience in your field of study and whether they hold licenses and certifications. You can also sit in on classrooms to experience their teaching methods first hand.
5) Check for Program Complaints
Before applying to a school, it is a good idea for students to check with the Better Business Bureau and the state Attorney General to make sure no complaints have been filed against it.
6) Is the School Licensed?
All schools should be properly licensed. Private vocational schools are licensed by through the Department of Education. Truck driving schools maybe licensed by the state transportation department. In any case, it's important to ask the school what agency handles its licensing.
7) Is the School Accredited?
Accreditation means the school's program has been evaluated and is verified to meet certain requirements. A school that is accredited is likely to provide the appropriate training and education.
8) What are the Fees?
If you are starting out in the career field, you may be struggling financially. Make sure the school you enroll in is affordable and won't leave you paying off loans for the better part of your life.
9) Does the School Offer Financial Aid?
Lower income students may qualify for financial aid. This is a great way to lower your payments without having to pay off a hefty loan. Before applying, find out about your financial aid options.
10) Review the Loans
If you do end up taking a loan to pay for your education, be sure to review the terms of the loan carefully. Be aware of the interest rates and the terms of repayment to make sure you're not getting in over your head.
11) Review the Contract
Most vocational schools will offer you a contract before signing up. Look over the contract to make sure you can cancel within a few days if you are dissatisfied with the program. Also, if the school's spoken promises are not reflected in the contract, it could be a red flag.
12) What Does the School Provide
Most continuing education facilities require you to purchase books and materials that are essential to your coursework. Find out what supplies you will need so you can include this expense when considering the total cost of the school.
13) What Other Options Do You Have?
While vocational schools can provide a comprehensive education, they may not be your only option. Community colleges may offer courses that are less expensive and just as extensive. On the job training may be another viable option where you can earn money while learning.
14) Does the School Offer the Program You Want?
It may seem obvious that the school you are looking into would have the program you want. But if you are looking for a specific kind of training, you may find the school doesn't offer exactly what you require. It is better to find this information out sooner rather than later.
15) Will My Credits Transfer?
If you have had previous education that can be applied to your degree, you want to make sure your credits will transfer. Otherwise, that training will have been a waste of time and money.
16) What is the School's Reputation in the Industry?
If you were educated by a school that has a good reputation in the industry, you will be much more likely to get a job. Do a bit of research to find out which schools will help your resume to stand out.
17) Student Experience
You can learn a lot about a school by finding out what past students have to say about their experience. While online reviews can be helpful in providing you with information about what the school is like, getting a list or recent graduates and asking them about their experiences is a foolproof way to get information you need to determine whether the school is right for you.
A trade school is a great option when it comes to career training. But finding the right school is essential. Before applying, glean as much information as possible to find out if the school is getting you on the best path for success.
We wish you luck in your future endeavors.